The Digibus is different from other autonomous vehicles. Learn more about how this test environment distinguishes itself from others world-wide:
Facts that make the autonomous Digibus internationally unique: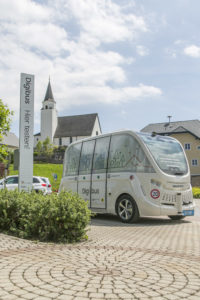 The route is one of the longest routes worldwide that are operated autonomously on public roads.
The Digibus drives on public roads in mixed traffic.
The so-called "last mile scenario" is tested with the Digibus, bridging the distance from the last bus stop to the destination.
The test route is in a rural area.
The route has a slope of eight percent.
The route is 750 meters above sea level.
The test environment is based on the Automated Driving Regulation (AutomFahrV) by the Federal Ministry of Transport, Innovation and Technology (BMVIT), which provides the regulatory framework for automated driving in Austria.