Test tracks
As part of the "Digibus® Austria" pilot project there will be test drives on non-public and public test tracks. The test tracks are used for real-world testing and also serve to demonstrate the project's results.
Test track Wr.Neustadt
During the Lower Austrian State Exhibition, the Digibus® is operated from May to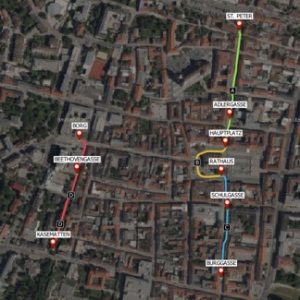 September in the city of Wr. Neustadt. The route along Wiener Straße leads from the main square at the southern end of Wiener Straße northwards to the end of the pedestrian zone and a stop in the St. Peter an der Sperr. The way back is the same route in the opposite direction. The start and end points of the route are located at Hauptplatz/Wiener Straße area. This route is approx. 560 metres long. This is the main route. Other routs are just alternatives in case of obstacles or happenings, like events.
Test track ÖAMTC Fahrtechnikzentrum Teesdorf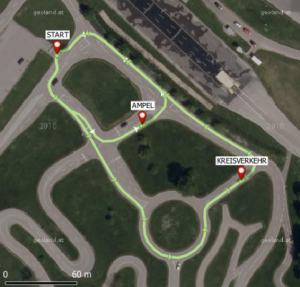 The Fartechnikzentrum  ÖAMTC Teesdorf is used for non-public tests and demonstrations. Four test tracks have already been set up here. Two test tracks are located on the traffic practice area, the other two test tracks are on the motorcycle course.
Test track Salzburg Ring
The Salzburg Ring in Koppl near Salzburg is used as a non-public test track.

Test track Koppl
The municipality Koppl is a typical example of the so-called last mile scenario: the village center is located about 1.4 km from the B 158 away and thus from the bus line 150 (Salzburg – Bad Ischl) of the Salzburg Transport Association. This distance – the "last mile" – is often a major hurdle to actually use public transport.
The shuttle bus line 152 between the federal highway B 158 and the center of Koppl runs due to economic reasons only very rarely. An autonomous minibus could close the gap for the less profitable times.
The test track is ideal for testing autonomous vehicles in a "first / last mile" scenario in a rural setting in a mixed traffic situation.